Garden of Emotion

We all come from a woman, probably one who suffered or was abused. We are the product of a lineage of pain, the legacy of a patriarchal society where women have lost their power, where our wombs have been reduced to reproductive devices, where our bodies have been reduced to sexual objects. We inherit pain and diseases that the medical world often cannot explain or cure. The center of my work is based on the expression of pain, in the process I have connected with people with similar experiences, especially women. Our bodies absorb and process everything around them and many times we ignore it until it gets sick.

Garden of Emotion is an image journal where I record my emotional and physical states through painting. The compositions appear naturally as seeds and flowers. The seeds come from an emotional state, while the flowers come from a physical state. The seed is a metaphor for the potential, the consciousness ready to give life, grow and expand. I draw flowing emotional lines and represent feelings with color; the abstract, the untold. The flower is a metaphor for the body, its limits, strengths and weaknesses; its sensitivity and mortality. Each piece is based on a drawing of my spine and with color gestures I represent my feelings. The seed of emotion that is sown manifests physically through the body.

With these studies I analyze my own condition, trying to transform it into autonomous creations that tell a story of a life of pain and resilience. The unstretched fabric symbolizes the flexibility and vulnerability of the body. With fragments of fabric I depict the integration of the physical and the energetic body; it allows me to make life-size images and involve my whole body in the process. The fabric itself comes from a flower.
Doubt and uncertainty, March 30th, 2023
Acrylic on linen, 190 x 190 cm | 75 x 75 inches
Wonderful mystery, March 14th, 2023.
Acrylic and oil pastel on unstretched cotton-linen blend | 147 x 210 cm | 58 x 82 inches
Assimilating family rooted feelings, March 21st, 2023.
Acrylic and oil pastel on un-stretched cotton-linen blend 147 x 210 cm | 58 x 82 inches
The shame of my father, March 22nd, 2023.
Acrylic and oil pastel on un-stretched black cotton | 135 x 204 cm | 53 x 80 inches
Sprouts emerging from the depths, 2023
Diptych Acrylic on black cotton 70 x 80 cm | 27.5 x 31.5 inches / each

Flowers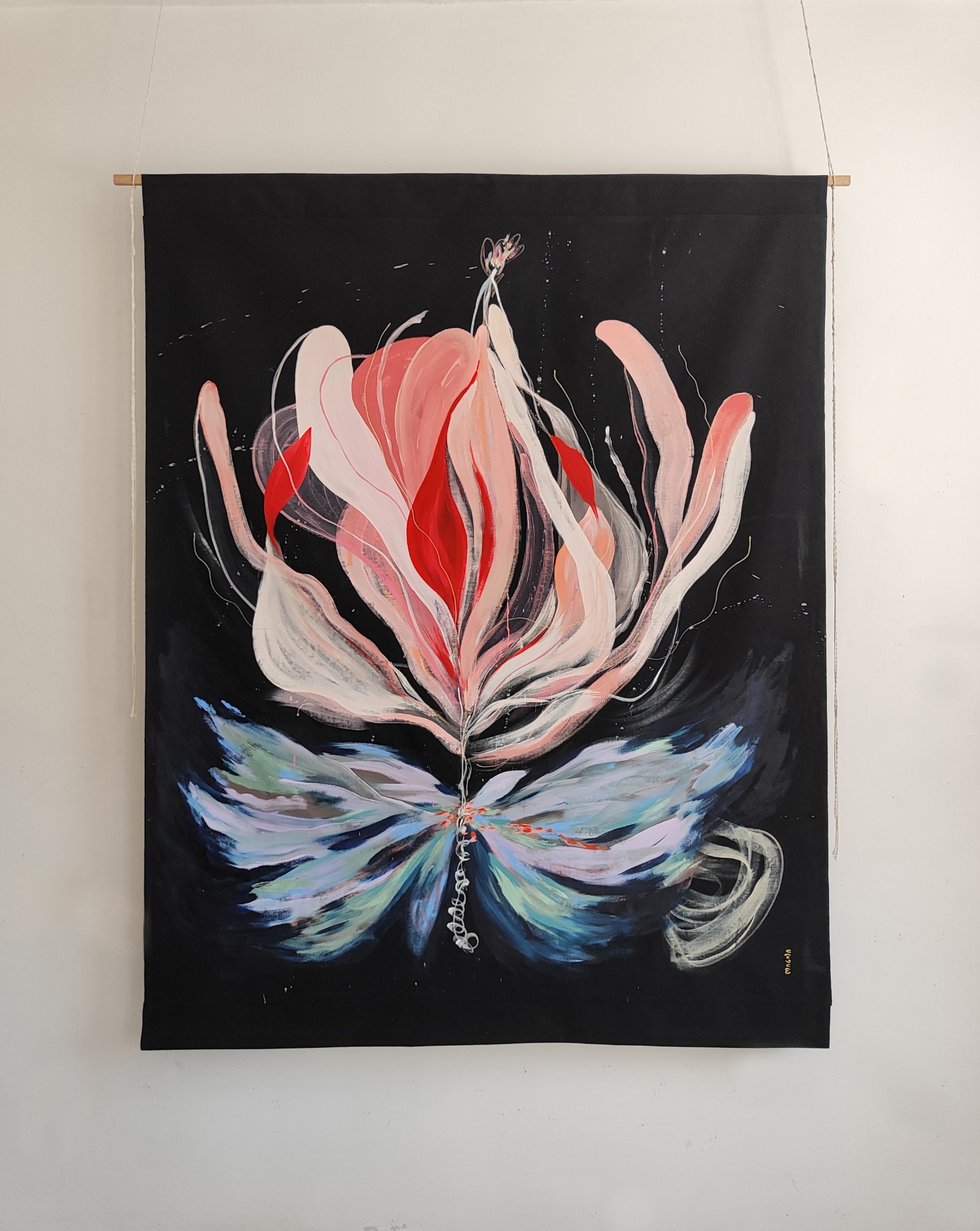 Flor gemela de Mayo, May 2023
Acrylic black cotton | 150 x 190 cm | 59 x 75 inches

Flor gemela con capullo, May 2023
Acrylic black cotton | 150 x 190 cm | 59 x 75 inches

Grandmother butter flower grown from the sacred seed, January 2nd, 2023
Acrylic on unstretched cotton-linen blend | 155 x 205 cm, 61 x 81 inches
Delicious & vicious lilly with ghost angel wings, January 3rd, 2023
Acrylic on quilted cotton, 150 x 210 cm | 60 x 83 inches | SOLD
Wonderful shoulder blade feelings arising from the sacred flower of pain, January 6th, 2023
Acrylic on unstretched cotton-linen blend | 155 x 200 cm, 61 x 79 inches



Upper back salvias of pain & anxiety (with shouting sacrum seed and scaaar), January 7th, 2023
Acrylic on unstretched cotton-linen blend | 155 x 200 cm | 61 x 79 inches


Uncertainty flourishing from a decaying seed, January 8th, 2023
Acrylic on unstretched cotton-linen blend | 155 x 220 cm | 61 x 87 inches



Kundalini floral eruption & burning from the scorpio's tail, January 9th, 2023
Acrylic on unstretched cotton-linen blend | 155 x 220 cm | 61 x 87 inches
The magnificent frozen knees monkey swan, January 11th, 2023
Acrylic on quilted cotton, 150 x 210 cm | 60 x 83 inches | SOLD
The fire that consumes me, January 10th, 2023
Acrylic on unstretched cotton, 155 x 220 cm, 61 x 87 inches | SOLD
Ovulation kundalini flower power, January 14th, 2023
Acrylic on cotton | 140 x 200 cm | 55 x 79 inches
Well rooted pistil looking for fertilization, January 15th, 2023
Acrylic on cotton | 140 x 200 cm | 55 x 79 inches
Expanding dreamscape vulva, January 18th, 2023
Acrylic on cotton-linen blend | 145 x 180 cm | 57 x 71 inches
Hip and tailbone bouquet, March 11th, 2023
Acrylic on cotton-linen blend | 90 x 120 cm | 35 x 47 inches | SOLD
My left and right palms, March 12th, 2023
Acrylic on cotton-linen blend | 90 x 120 cm | 35 x 47 inches | SOLD
INQUIRE


Please contact:
Emma Donnersberg
c. +33.6.22.92.03.43
contact@edonnersberg.com